6 Essential SEO Factors That Will Make or Break Your 2015 SEO Campaign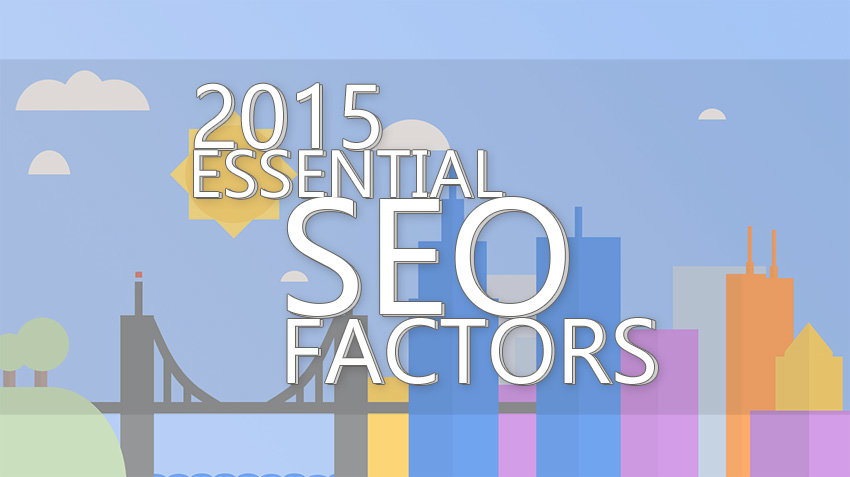 If you want to increase your traffic from Google, Yahoo, or Bing, great search engine optimization is essential. The basics of SEO are supposed to be simple: just follow the Google guidelines. But in our web-crowded world, things get a bit tricky: the rules often change, and reaching the top positions of search engine results pages (SERPs) is becoming more and more difficult if you are not highly experienced.
In this post, I will share with you the most important SEO factors for 2015-2016 that will determine your success in SEO.
1. Mobile optimization
A major change announced by Google takes effect on April 21, 2015: the search engine will only display mobile-optimized sites in its results for mobile users. The first pages of mobile searches are more and more occupied by mobile-friendly, fast-loading, and answering specific questions sites.
Mobile friendly & responsive
Google has been signaling for months that optimizing sites for smart phones and tablets will become more important than ever. With the rapidly growing mobile user segment, having a non-mobile-optimized site—without a responsive design—will soon mean missing half of the potential traffic from Google.
It's important to note that Google may not de-index your site from mobile searches if it is not optimized, but the search engine will mostly promote optimized sites, pushing yours to the back of the SERP.
Here is what your mobile-optimized site will look like to mobile searchers (notice the words "Mobile-friendly" —label awarded to one page only, not to the whole site):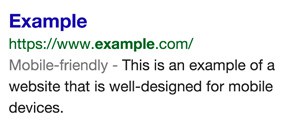 You can easily check your mobile compatibility (according to Google) with this tool. Or log in into Google Webmaster Tools to find out whether you have any issues and how to fix them.
Pages load speed
Your pages should be able to display their visible parts in less than a second on a mobile device. You should start by optimizing your images to reflect the perfect weight/quality ratio. I personally use this tool, which produces excellent results, especially for .jpg and transparent .png images.
Answer a specific question rather than address a broad subject
Searches performed on mobile devices tend to differ from those performed on desktop computers. Mobile users search for specific questions rather than a broad topic. Mobile sites that can quickly answer a specific question, rather than cover an entire subject, will rank the highest.
If you have pages covering broad subjects, I advise you to create specific topics on dedicated subpages. You should start with your most successful pages.
Be sure to include a page title and keywords corresponding to natural search queries and conversational search, particularly important since the last Hummingbird Google update.
Local queries
If you are a local business, it's important you optimize your site for local search so that people who are looking for a service or product in your neighborhood can find you.
Make sure you do:
Set a page per local targeted keyword.
Ensure you have optimised Google+ Local.
Ensure that all your citations have the same address.
This will ensure you get the best results from local SEO in 2015.
2. User experience
User experience is becoming THE major ranking factor measured by Google. Most Internet users do not know that Google has become a master at analysing their navigation, behaviour, interactions, and time spent on each page.
User experience greatly influences the ranking of search results, especially for sites listed in the Golden Triangle (the top results): if a competitor site that's currently ranking below you significantly improves its user experience, you will lose your rankings.
Ranking is no longer only about keywords, backlinks, and social signals. In 2014, Google started to promote sites that engage users effectively as demonstrated by their lower bounce rate, more pages viewed, and longer on-site time are the soft metrics Google is watching.
Make sure you have elements on your pages that encourage users to click and spend time on at least two pages before leaving your site.
You could start by spotting the most viewed pages with problems in Google Analytics (Behavior > Site Content > Landing Pages). Target pages with a high Bounce Rate, low Pages/Session ratio, and low Avg. Session Duration. You might find that the problems those pages have are very easy to fix.
A word about design: in my opinion, the appearance itself can change everything, from SERP rankings to income generation and brand reputation. Good design is 50% of the battle. Many brands realize the importance of appearance too late, and sometimes hiring a designer can be the best choice to increase the income you generate.
3. High quality content
Publishing content often is no longer a requirement to rank well in 2015. Don't publish content for the sake of publishing. There is too much content and noise around as it is. Both users and Google now consider only the best pieces.
Longer quality content brings an outstanding value to the readers and ranks well on Google. If you don't know it already, on average, top five pages on Google have around 2,000 words. This should mark the end of the boring 300-word articles published 10 times a week!
Place a lot of contextual words when they make sense—this will grow the number of your long-tail phrases and your global visits.
Also remember to add a variety of optimized media on your pages such as videos, images (but not too many to keep the loading time short), and infographics.
4. Quality backlinks
The backlink factor is still THE key to ranking fast and well in the SERPs, and it won't be devalued in 2015. Google is getting better and better at spotting sites that try to game the system. However, you can still leverage link building to achieve high rankings faster and probably will be able to for a very long time.
It is important to remember that it is the quality of the links that matters, not quantity. Most of the basic black-hat strategies, which once performed well, are now useless and dangerous. Want to buy thousands of links for a few dollars in 2015? You might as well shoot yourself in the foot.
A lot of people don't realize that a good SEO strategy requires a real investment of time and money and that you need to choose your SEO services wisely and hire transparent, organized, and responsible people.
To build good backlinks, it is always useful to spy on your competition with tools like Majestic or ahrefs and reproduce their strategies. Then capitalize on the great content you create and promote it. The best backlinks are from sites with high authority (you can check their domain authority by using these tools offered by MOZ).
5. Site authority
Authority is not only important for Google. A great authority marketing strategy is what will skyrocket your ROI on a middle/long term investment.
It's simple: when you start producing content, you must aim to become a reference, followed and listened to by your visitors and prospects. You should offer great articles, but don't stop there.
Write e-books, compose how-to guides, publish videos, do podcasts, and organize webinars that will help your audience solve their problems. It will help you differentiate yourself from the competition and gradually position yourself as an authority in your field.
Become a leader. Although it is often seen as very complicated and time-consuming, it is worth it in the long run.
6. Importance of meta descriptions
Many SEO professionals underestimate meta descriptions. In my opinion, this is the jewel in the crown of good SEO, the forgotten key, and one of the most effective levers you can use to increase your visits in a matter of days.
A good meta description will improve the click-through rate of your listing in the results pages and send qualified traffic to your site.
Here is how to make a killer meta description: be engaging with your call to action to make searchers choose YOUR website from the SERPs. You can also provoke curiosity by teasing people with information that will make them click through to your site to find out more.
Also, you should place synonyms of important keywords within your meta description. For example, if your page title is "Guitars lessons for beginners," then talk about "novice guitar training" in your meta description.
And don't forget: each page needs to have a unique description, no duplicates.
Conclusion
If you implement the points above as part of your SEO strategy, I guarantee spectacular growth in your traffic and conversions.
Optimizing a few keywords and building average backlinks is no longer enough to rank well and continuously increase your traffic. SEO of 2015 is more technical and complex than ever, with marketing playing an increasingly important role.
My prediction is that SEO and marketing will gradually merge into one unique process within the next few years.
Please share your thoughts with us: which SEO factors will be important to you in 2015?